Thematic Area / Emergency
Municipality is in a standby position to response to floods
Shahid Nagar Municipality is one of the vulnerable municipalities of Dhanunsha district in Madhesh Province in terms of flooding as the Kamala River wreaks havoc. More than 14 thousand people are living in this municipality where 274 household are in high risk of flood. Each year, about 12 people go missing and die from flood. Hence, Sahidnagar Municipality in coordination with LIFE Nepal is implementing flood preparedness and response program from 2020-2022 with the technical and financial assistance from UNICEF. Here, Municipality managed the search rescue materials like rubber boat, siren, life jacket, helmet, pedal, rubber tube as well as PPE set. The shelter house was also well managed by Palika with wash facilities. In addition, the early warning system with siren house was also started. Paliks also established a capable and trained team of LDMC, first aid and rescue. It had established a good coordination with Area Police Office and Armed Police Force. All these are contributing to the flood response. Mr. Uday Kumar Barbariya, Mayor of Municipality also realized that they are capable to response the flood as they have sufficient rescue and search materials with helipad in his municipality. They are always in a standby position to response to floods.
Municipality is ready to cope with flood
Two years ago, the community people from Rajpur Municipality of Rautahat District were badly affected by heavy rainfall and flood. In response, Rajpur Municipality decided to prepare a Local Disaster Management Committee before the onset of monsoon. Also, it managed the shelter houses with toilet facilities and arranged rescue materials like, life jacket, helmet, siren, tube, hand pump, cleaning materials with PPE set, mask, sanitizer, dustbin, Jug, shop, hand wash, first aid kit; with the financial assistance of UNICEF and in coordination with LIFE Nepal. There are 274 vulnerable houses in ward number 9 of Rajpur. Hence, Ward Commissioner Md. Asraf Ali, Health Assistant Md. Khurshid Alam and the Chairperson of Risk Reduction Committee Md. Katful Baral became responsible in response to them. They realized that they are now capable to manage flood response in the Palika. They are very thankful to UNICEF and LIFE Nepal for the praiseworthy contribution in technically equipping them with the gadgets to cope with floods.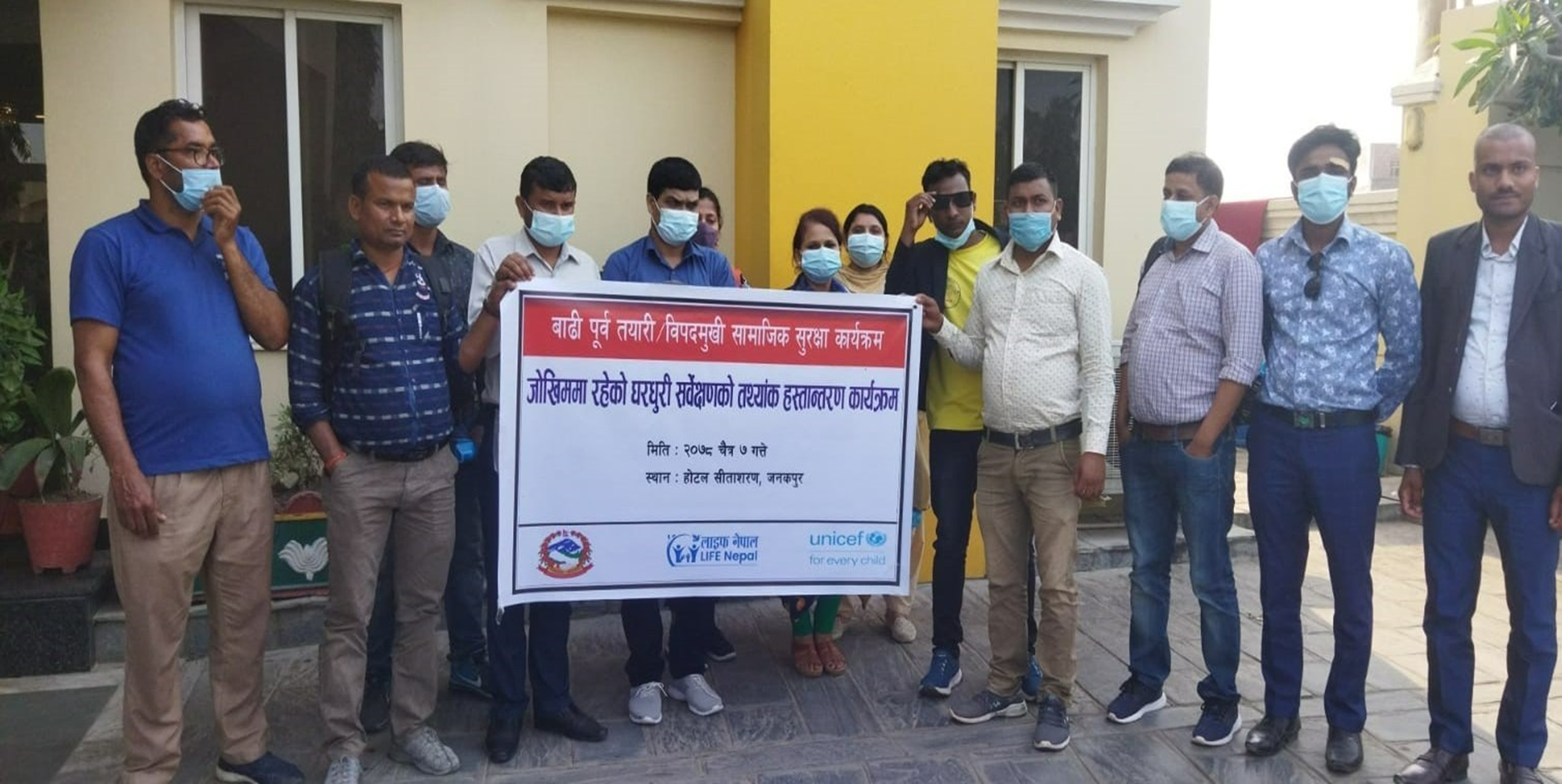 Shock Responsive Social Protection
To address scarce of Strengthen Shock Responsive Social Protection mechanism at Palika level and establish a linkage of vulnerable households with bank, LIFE Nepal with the technical and financial assistance from UNICEF implemented " Shock Responsive Social Protection " programme in 4 selected Palikas in two districts of Madhesh Province, Nepal. Through this program ppdating list of vulnerable households completed in targeted 4 flood prone Palikas through mobilizing trained enumerators, information of 1542 households collected through KOBO, linked 1437 (93%) households with bank to open bank account. Finally, community people are aware and responsive for social protection services provided by the government of Nepal, people who had not account in bank started to open account in bank, and people realized the necessity of identity card for opening bank account, and they processed for getting their identity card.
COVID-19 Response
LIFE Nepal with the technical and financial assistance from UNICEF implemented "Risk Communication and Community Engagement (RCCE) on COVID 19" programme in 32 selected Palikas of eight districts of Madhesh Province because RCCE effort is an effective strategy in terms of gender-responsive and including all segments of societies, particularly the most vulnerable and marginalized social groups for COVID-19 preparedness and response. Through this, LIFE engaged communities to generate support for the adoption of covid-19 preventive measures and improved access to the services completed, a total of 352 lead/volunteers engaged on door-to-door visits and information collection mobilized to promote social distance, mask and sanitization use, and SMS behavior data collection and vaccination via door-to-door visits and Megaphone announcement intervention.