Life Skill Sessions
Parents and family members are the prime actors who decide for the marriage in the family. Sensitizing them for deciding marriage after 20 years only is crucial. Hence, LIFE Nepal worked directly with parents and families. In doing so, LIFE engaged parents and family members in life skill sessions facilitated by girls' champion, girls/boys' club's members.
Girls and Boys Clubs Mobilization
Through engaging with Girls, LIFE reached girls club members, girls champions, and boys. LIFE formed Girls and Boys Club/Network. With the facilitation of LIFE they developed plan of action for SRHR. They oriented or trained on facilitation and life skills and conducted Life Skill (Including SHRH) sessions to students and parents.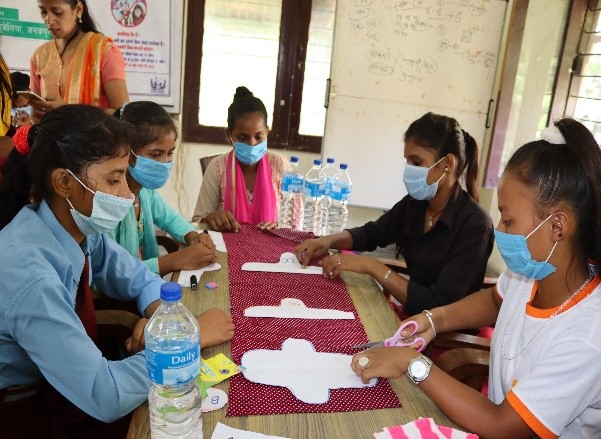 Skills Training
One of the most needy and essential activity for adolescent girls, i.e., sanitary pad making training for menstrual hygiene was organized by LIFE Nepal in a small group with safety measures like social distancing, mask, venue, and hand sanitization. From this activity girls from schools were benefitted. They enhanced knowledge how to prepare sanitary pad by using local materials available at home. Most of the trained girls are using sanitary pad developed by themselves at home through using local and available resources. Those are cost effective and safe for them as well. Sanitary pad developed by girls was used by their family members as well. This was very much caring for them because during the COVID pandemic there was a fear to move outside home, go to shop and purchase sanitary pad either for girls or their family members. In addition to that, girls skilled their other friends in the community how to make sanitary pad through available local resources and provided sanitary pad to their friends who required during COVID pandemic. It was very much helpful in terms of ensuring menstrual hygiene and health for adolescent girls that was very much crucial for them during COVID pandemic and stay at home.
Self Defense
LIFE Nepal organized self-defense training for girls champion and girls club members. It helped to build the self-defense confidence of girls and enhance their technical skills of self-defense. They build their confidence and are now able to protect themselves if any cases of abuse the faced.