Thematic Area / Livelihood
Young women-built confidence that they could earn now because they are skilled
LIFE Nepal provided vocational training to 13 child marriage survivors who were socio-economically deprived. In addition to that, it supported materials like scissor, scale, tape, clothes, chalk, needle, thread, etc. to them in relation to start their small business and improve their daily/monthly income to uplift their economy. Through this training and support, three young women were able to increase monthly income by NPR 5000-6000 through their tailoring shops. They have built the confidence that they could earn good sum as they had got the required skill.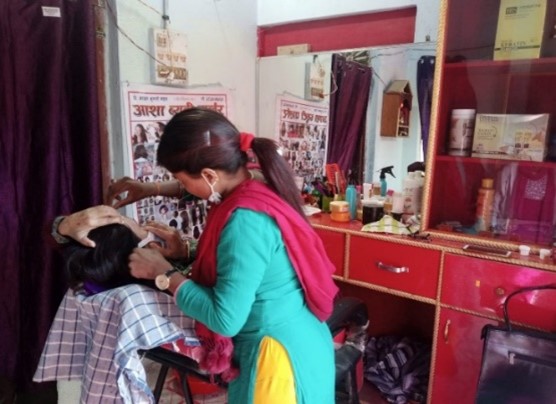 IGA support uplifted income of a GBV survivor contributed to educating children
Asha Kumari Mandal was married at the age of 17. Within a year of marriage, her husband involved in polygamy because he believed that Asha wasn't beautiful enough. Since then, he started living separately parting Asha who now holds a 2-year-old child. With the time, she faced ignorance and torture from the law's family. The family didn't even helped Asha get the birth certificate of the child and her marriage certificate. According to Asha, she was verbally abused while raising the issues of legal identity of her son. So, she decided to leave her husband's house and came to her maternal parents. As the maternal parents were aware about Asha's issue and due to their supportive nature, Asha came to the city area leaving her son in the maternal home. In the city, she learned the basics of the beauty parlor course and was seeking the support to run a beauty parlor as she had interest as well as skill of cosmetics and parlor. Luckily, a day, LIFE Nepal came to know about her through the local ward members and offered her the equipment worth 20,000 as a support cost for the initiation of a small-scale parlor. Gradually, she started earning from the parlor, and she also brought her son who was in the care of her maternal parents, to the city area. From the earning, she got her child admitted into the boarding school and now, she is living happily with her little son. She says that her son wants to be a doctor, and she will be working devotedly to fulfill his son's dream.