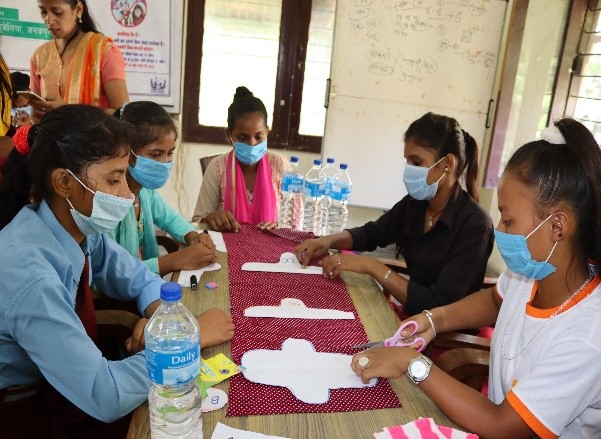 Girls are applying their knowledge and skills in behavior
One of the most needy and essential activity for adolescent girls, i.e., 10 events of sanitary pad making training for menstrual hygiene was organized by LIFE Nepal in a small group with safety measures like social distancing, mask, venue, and hand sanitization. From this activity152 girls from 10 schools were benefitted. They enhanced knowledge how to prepare sanitary pad by using local materials available at home. Most of the trained girls are using sanitary pad developed by themselves at home through using local and available resources. Those are cost effective and safe for them as well. Sanitary pad developed by girls was used by their family members as well. This was very much caring for them because during the COVID pandemic there was a fear to move outside home, go to shop and purchase sanitary pad either for girls or their family members. In addition to that, girls skilled their other friends in the community how to make sanitary pad through available local resources and provided sanitary pad to their friends who required during COVID pandemic. It was very much helpful in terms of ensuring menstrual hygiene and health for adolescent girls that was very much crucial for them during COVID pandemic and stay at home. Through this activity LIFE Nepal learned about peer-to-peer knowledge transfer, local resource mobilization, cost effectiveness, sustainable, and safety.
Vocational Training to Young Women and Girls
LIFE Nepal organized tailoring and beauty parlor training to young women and girls under "Ending Early Marriage and Promoting Girls Education" Project with the technical and financial assistance of Girls First Fund and in coordination with 10 Municipalities/Rural Municipalities of Dhanusha district.