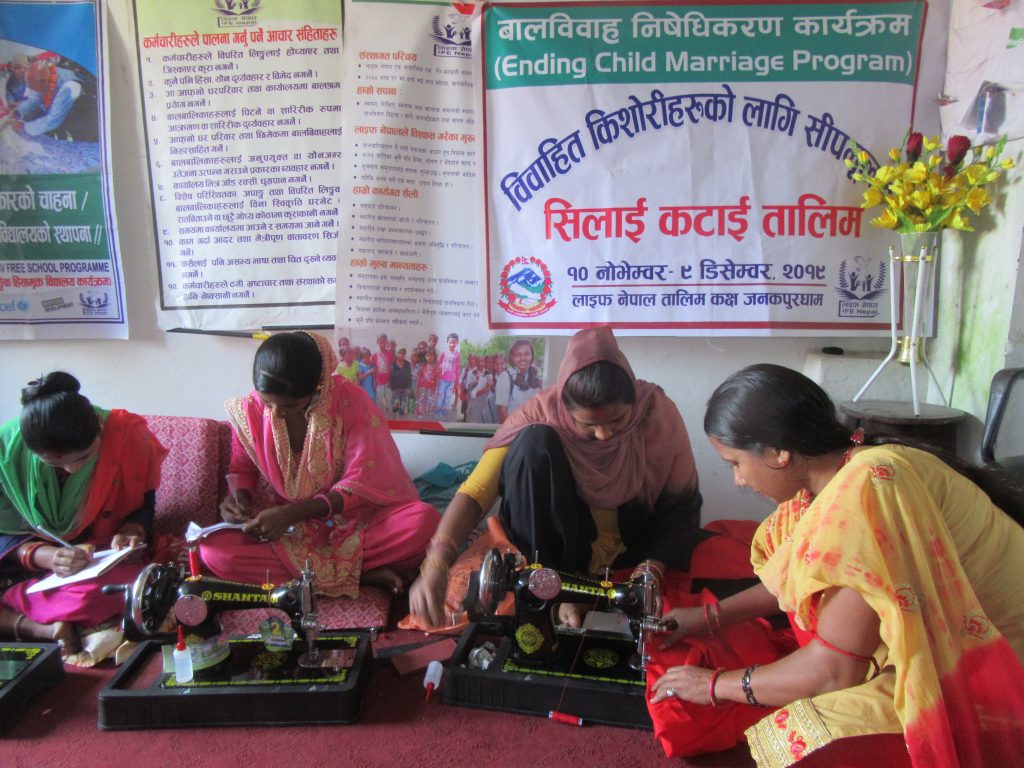 This case study is based on the in depth interview with and observation of Asha Kumari Raut (changed name) 9, a resident of Sohani, ward no. 14, Janakpurdham Sub-Metropolitan City. She grew up in a lower-middle class family and right now living with parents after the death of her husband in motorbike accident. Her father is working in a factory and mother is a housewife. Due to the traditional culture and believes she gets married early at the age of just 12 years for managing the pride of family and society. Finally, she became a drop out from the school when she was studying at grade 7. After the death of her husband, she became alone with her two sons (four and two years). Her financial condition is also very weak as breadwinner of her family is no one. Her economic status rapidly went downhill (economic crisis). She became in a trouble in raising her children.
The project selected Asha and participated in the vocational training in relation to response the child marriage survivor. In addition, project supported sewing machine as a seed money. After the training, she started sewing clothes of her neighbors that contributed in her daily earning and saving. After that, she added a small business of general stores along with a small tailoring shop at her own house as well. However, she faced a pain of social stigma that she would not be offered for stitching the clothes by customers because they had the belief that if they wear then something unexpected might be happen for them as she is a single woman.
The project staffs counsel her and the neighbors as well. Now, the situation is improving gradually and people are coming to her for the stitching. In addition, she was encouraged to continue her education. However, she expressed that she is interested but it is not possible for her right now having the responsibly of two children and financial burden. Hence the project is facilitating to her that at least enroll her child at early childhood development center and has planned to support (stationaries and education materials) educating her child.
Now she is very happy. She feels relief from the social stigma and financial burden. She expressed that this is a good initiative of LIFE Nepal/GFF which is providing a platform for those girls who became a victim of child marriage (like me) and doesn't have any skill to generate income for her family. She feels very lucky to be a part of this training. She added that no one should suffer like me. Child marriage is a course especially for girls living in a conservative society and must be eliminated from our society so that every girl can live long and healthy life. She suggested every parents not to marry their daughter before 20 or against their will. Finally, it is learned that a small support (seed money) and minor initiations (skill training, counselling, encouragement and facilitation) could bring the change in the life of the people and make them happy.